Binary Zero Reviews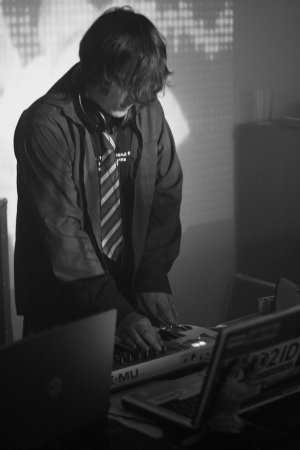 Binary Zero - The Scotsman

"Under the radar : Knob-twiddlers In the limelight and good news for all Edinburgh gig-goers"
By Olaf Furniss and Derick Mckinnon
The Scotsman 29/08/08
Glasgow based based electronic musician aka Binary Zero aka Stuart Foxwell
(myspace.com/binary zero) is already a well kent face on the cities electro scene thanks to his Tronic night. His fame spread in June with the release of his debut album From Here You Can See Everything on Alex Tronic Records . The label is now making the outstanding 5th Objective available as download at alextronicrecords.co.uk. With its old school techno feel and a sample of a David Icke speech, the mesmerizing mix is guaranteed to appeal to both aging ravers and young electronica enthusiasts. It's also our track of the month.
www.thescotsman.co.uk
From Here You Can See Everything (Alex Tronic)
Binary Zero may indicate a modern world where there is very little room for grey or fuzzy logic and listening to album 'From Here You Can See Everything' you get the same impression. Its a full on assault that barely lets up but its all the better for it.
It's pretty relentless and by the end of the album you feel as though you have done a proper shift…but of course, in a good way. This is exactly where you have to picture the music in a club or at least with some friends as it is a bit full on for a quiet Sunday afternoon but in the right situation, its one you will return to time after time.
Related to Ives by birth, Binary Zero presents a far more adventurous musical approach and certainly one which will do more damage to the body's nervous system but another thing that remains in common with the more famous act is undeniable musical talent. It may not be an album for everyday of the week but 'From Here You Can See Everything' should have a definite time and place in your weekly routine.
Andy Reilly Is This Music
4/5
EMAIL : info@alextronicrecords.co.uk
www.alextronicrecords.co.uk


Listen & Purchase Now!

THIS is an electronic punch to the face. There's no quarter you can run to and find peace or solace Binary Zero's music invades you skin like an electric virus keeping you twitching and un-nerved.
The debut album from Stuart Foxwell on Alex Tronic Records is disturbing techno filth. No rest for the wicked seems to be the main criteria. There are plenty of highlights but special mention must go to Electronic which uses pile driving beats and piercing high pitched notes to grind you down. Then there's the neon jack boot of The 5th Objective which samples footballer turned conspiracy theorist David Icke's saying "Out of these troubled times, our fifth objective a new world order can emerge". But mostly the album is about pushing sound to it's hardest. All The Stuff We Are has mysterious Middle Eastern synth that plays like some robotic belly dancer hypnotising before squelching into oblivion. Private John Doe rips open the Terminator's mind, a pulsating military march into madness. Maybe not for all tastes but still a thrill ride. Rick Fulton The Daily Record
The album is out now
www.binaryzero.co.uk!