Alex Tronic Reviews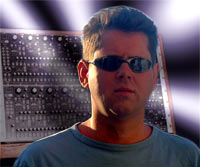 Alex Tronic- To Infinity Album Release Date 7/02/09
Alex Tronic has released and licenced music to many labels notably Koyote/Peyote Records and Cherry Red Records . He has also dabbled in scoring the music for film and TV. His seminal Obsessional/Mind Matters disc is still attracts enquiries 6 yrs later.We have decided to put a unrelehased mp3 on the site wile we develope our label release shedule. Famed for his laid back grooves the man is currently working on some tunes that will be announced soon!
-----------------------------------------------------------------------
..........................................................................................
Title: Alex Tronic – To Infinity
Label: Alex Tronic Records
To Infinity can loosely be described as a psychedelic techno-pop album, the work of Paul Croan – who owns the Alex Tronic label.
Eclecticism is Croan's biggest strength, converging splayed guitar chords with ascending Roland 303 notations. Female vocals add a haunting quality to many tracks, swaying to the echo of luscious Ambient-Techno by employing some soothing orchestral strings and spiralling effects.
To Infinity is a more than passable effort from Croan, with three or four very very good tracks. Although its combination of liquidised guitar and earthy beats does tend to drown out some of the subtler elements of the album, when the production is spotless the results are consuming.
Score
Danny Turner: Future Music [FM 7/10]
Top Downloads
Chiller
Death Of Light
Life's A Dream
.......................................................................
The Skinny
The latest offering from Alex Tronic records is a real treat, for a number of reasons. The opening notes of the first track Life's A Dream (In my Scratcher) suggest that the record may be going down a darker route, but within seconds the tone changes to one that promises a brighter journey. It happens quickly yet subtly and means the record opens rather pleasantly. Also, techno music can be rather inaccessible. As a genre, it seems to rub a lot of listeners up the wrong way, but this probably won't be a problem for To Infinity. The overall tone of the record makes it not only accessible but highly enjoyable, whilst the instrumentals work well on every track. The inclusion of vocals from Susanna Holland and Amy Duncan are a large part of what makes this record the human and satisfying work it is. Chris Duncan - The Skinny
Alex Tronic - Mind Matters ,
Alex Tronic - Obsessional ,
OUR HUMBLE OPINION: Chaos Existence www.chaosexistence.net
Wow!! What are these sounds? Alex Tronic delivers some truly unique stuff here (hear) ;). From breaks to trip hop and drum and bass. 'Mind Matters' is a trancey breakbeat journey with some funky scratch elements and spaced out vocal samples. 'Obsessional' slows things down to a trip hop beat, while maintaining a nice groove through a deep bassline. Scratching is thrown into the mix as well as ambient vocal samples. Constant high pitched cyclical sounds dominate the upper regions of this track. The beat doubles up halfway through and adds a nice drum and bass feel to the rest of the track.
"Chilled Breakbeat Bliss".
Future Music
Hip hop meets ambient in this exciting production, with 'Mindmatters', being filled with suprises. Have Joy Division ever been sampled in a breaks track? I doubt it"
The List Magazine
"Alex Tronic is like pulling a great white fluffy duvet over yourself"
Cooled Magazine
"A dazzling trip through soulfull sounds, is the best way to describe Alex Tronic. It will wash over you as you sit back and chill. A new beginning, a turning point in musical education. Euphoric, warm and very original"
Koyote Records Press Release
EMAIL : info@alextronicrecords.co.uk
ALEX TRONIC RECORDS

www.alextronicrecords.co.uk


Listen & Purchase Now!

<
It's a sublime techno journey at times like a disco night in a David Lynch film. From the hard graft of NIN to the blissed out Beloved there's something for anyone who likes electronic music. The album kicks off in style with the rootsy trance of Life's A Dream (In Ma Scratcher) whose addictive harpisord-like synth drips down like molten lightbulbs. From trance to a mash-up of U2 and NIN, In Flight is the album's highlight. It starts quietly with Edge like guitar then begins a tribal Leftield throb blasting you with nuclear electro and guitar riffs. That's just the first two tunes. What a journey. The album is out now.
Rick Fulton - The Daily Record
!