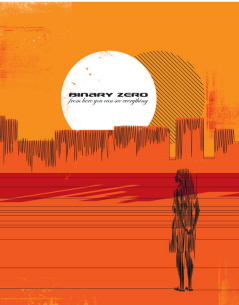 ATRCD061- From here you can see everything by Binary Zero
Buy the Binary Zero album here on itunes
Buy Binary Zero -from here you can see everything CD £7.99
Three things you should know about Binary Zero:
He has just realised his debut album 'From Here You Can See Everything' on Alex Tronic Records
He played a storming good set while previewing his album at Tronic in May
There is much, much more to this guy than meets the eye.
From Iron Maiden to David Icke, in this exclusive interview Glasgow's electronic soloist and Tronic favourite Binary Zero reveals his influences, inspirations and aspirations as well as his formative years in 'Intrigue'-ing bands…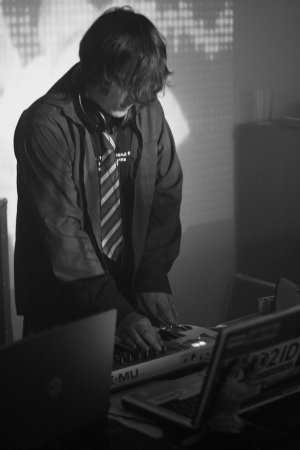 If you were at Tronic in May, you might be surprised to find out that Binary Zero wasn't always the guy whose laptop wizardry entices even the most reluctant punters away from the bar and on to the dance floor. Oh no. Once, he was an eight year old who played air guitar with a snooker cue along to the likes of 'The Number of the Beast' while his fellow 8 year old Maiden fans spurred him on with shouts of "Go Brucie boy go!"
This information Mr Zero happily reveals without so much as a blush.
Perhaps having never been a huge fan of Iron Maiden or lead singer Bruce 'Brucie Boy' Dickinson, I just can't relate. That said, we immediately find some common ground when he says, "I would probably say that one of the bands that influenced my music a lot have been Nirvana. Iron Maiden where the band that made me pick up a guitar and learn music. Nirvana was the band that showed me the meaning of doing your own thing musically and creating something new, fresh and exciting".
Perhaps the drive to be involved in music was also the result of good genes. His parents are both professional classical musicians. His sister is a trained pianist and his brother is one half of Glasgow's electronic duo Ives. "I can't remember a time when I wasn't in a band or doing something with music" he tells me. His first formal musical collaboration was as lead guitarist in a rock band with pals from school. The band's name? "Intrigue", although this time I detect a hint of embarrassment. "It was a terrible name", he admits, "And we probably sucked very badly in reality, but it was a fun band and I made some real friends for life". Sadly, one of these friends, Gregor Cowie, recently passed away due to cancer. 'You Can See Everything From Here' is dedicated to him.
This isn't the only thing to suggest that this debut album is extremely important. Indeed, you don't have to scratch too far below the surface to realise that much thought and careful planning have gone into this. Let's start with the title…
"The name of the album comes from text shown at the end of the anime movie 'Tekkonkinkreet'. At the end of the movie there is a caption that reads 'From Here You Can See Everything' and I instantly thought it was perfect for the album as it seemed to describe the viewpoint about the world one gets into once they look at all the alternative politics and spiritualism".
Carried throughout the album, this theme of alternative politics seems most obvious on the track "The 5th Objective", which was picked up by the Guardian for its David Icke sample. This also led to a radio interview on Edinburgh's Radio Talk 107 with Dominic Diamond. It strikes me that this must have been somewhat surreal…
"I suppose that getting interviewed by Dominic Diamond about David Icke is a little surreal but I never really saw it that way or just didn't notice... I'm a big fan of David Icke's work and I did have the worry that Dominic was going to lay into me with the usual lines about him being a fruit cake and a bit of a crazy person, the kind of rubbish most press churn out regarding his work. However Dominic was great and kept it mainly on me and why I used the sample".
It's not all conspiracy theories though. A sense of humour can be detected in tracks such as 'Holiday Insane Break Face', "That one's about my girlfriend's sister. We drove each other mental while on holiday in Spain". Then there is 'Electronic', a hard techno/ EBM extravaganza featuring friend and catwalk model Erin Friel, who, in the midst of a friendly debate over tastes in music uttered the line sampled in this track, "Just cos all you listen to is all that electronic stuff". He refers to this as the 'poke fun at myself' track,
"Erin's sample is a reminder to me that my music is just music and that it's just a big bunch of blips and bleeps formed into what I hope is good music [laughs]. At the end of the day if folk like a certain piece of music, then they like it, regardless of the geek (usually me) in the corner making remarks about how the bass line did not use the correct compressor setting.......blah blah blah......Just dance and enjoy the music. I also wanted to make a track that harked back to the rave tunes of old, which I hope it does...."
He also takes a lighter-hearted approach to his listening selections, "A lot of folk call the Foo Fighters bland but they never take themselves too seriously and on top of the fun attitude to their work, they write great up-beat rock music." As one might expect, his tastes also extend from electronic staples The Chemical Brothers and Aphex Twin, "Aphex Twin was a watershed artist for me, electronically speaking. Richard James was the first artist of that genre that I listened to knowing that was the path I wanted to be on musically", to Plaid, Burial, Ellen Allen, Venetian Snares and Apparat, through to breakcore artist Babyshaker and Firebrand Boy; a favourite of the 8bit chip breakcore scene.
Still, in attempting to address the huge themes of human spiritual development and alternative politics of the so-called 'conspiracy theorists', one can't help but wonder how such a meaty album has been received by the Scottish music scene. "So far, the release has been fantastic. It has been well-received, with various industry-types giving it the thumbs up- that's always good cos when you release your own work a certain amount of paranoia sets in as to whether folk will like it". And working with Alex Tronic Records? "They have been amazing in pushing my music and getting it out to all the important people. They already had a demo track and liked it, I then sent off a few emails feeling out the situation and got a reply stating they would go ahead with a release for me. I haven't looked back since."
Indeed Binary Zero very much has his sights focussed on the future, with potential routes into TV, films and games. He's currently being reviewed in The Skinny Mag and in International DJ Mag, which is set for publication on August4th. More importantly, if you missed him in May, get yourself along to Glasgow's Bar Bloc on July 24th where he's playing alongside 'Satellite Dub' and 'I am Blip'. He might even perform some air guitar if you ask very nicely…
http://www.binaryzero.co.uk
http://www.myspace.com/binaryzero
http://www.alextronicrecords.co.uk
EMAIL : info@alextronicrecords.co.uk
Alex Tronic Records
Mob : 07904713833
www.alextronicrecords.co.uk


Listen & Purchase Now!