Snakestyle
New Release March 27th 2020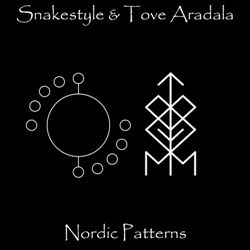 Snakestyle & Tove Aradala – Nordic Patterns Nordic Patterns is a collaboration between Matthew Leigh Embleton and Tove Aradala Barbrosdettar Buhe-Stam, combining a love of music and norse culture. The collaboration began with a series of field recording sessions in special locations of significant norse historical interest on the island of Gotland in August 2019. The result is an album filled with atmospheric magical imagery, chilled rhythms, evocative singing and chanting, percussion, location recordings taking the listener on a journey over majestic frozen ancient landscapes. Nordic Patterns är ett samarbete mellan Matthew Leigh Embleton och Tove Aradala Barbrosdotter Buhe-Stam, som kombinerar en kärlek till musik och norr kultur. Samarbetet inleddes med en serie fältinspelningssessioner på speciella platser av betydande norrhistoriskt intresse på Gotland i augusti 2019. Resultatet är ett album fyllt med atmosfäriska magiska bilder, coola rytmer, stämningsfull sång och ljudning, slagverk, platsinspelningar som tar lyssnaren på en resa över majestätiska frusna forntida landska

ATRCD135: snakestyle world radio
Buy Here on iTunes

Snakestyle Live Volune2
Buy Here on iTunes
Snakestyle Live Volume 1 Out 29 Nov 2011 (Download)
Snakestyle Live Volume 2 Out 2 Dec 2011 (Download)
Snakestyle World Radio Out 12 Dec 2011
Snakestyle Live
Snakestyle Live is a record of live performances on the circuit spanning from April 2008 to March 2009, including an Edensounds fundraising happening at the Synergy Centre in South London, Waveform Festival in Swindon, and two Whirl-Y-Gig events in London Bridge.
During these performances Snakestyle unleashed on an unsuspecting audience his unique brand of music, stepping across many genres of ambient and electronic, chillout, and dub. Sounds emanated from arrays of strange looking machines with wires and blinking lights, all held together under one vision for the purpose of sharing a soothing sonic world with a large group of people.
Snakestyle World Radio
Snakestyle World Radio, three and a half years in the making, is the latest offering from Snakestyle (aka Matthew Leigh Embleton). It examines the changing relationship between digital and analogue.
With increasing speculation about analogue being replaced with digital, the way we tune in and out and the nature of our relationship with radio will change. Over the years how music is composed and produced has changed, but in replacing analogue with digital, has something been lost? It's become easier to tune into almost anything, anywhere in the world but with so much unfettered access do we take that for granted?
On Snakestyle World Radio, Snakestyle attempts to bridge the gap between different technologies to merge the best of both worlds together. With Snakestyle's brand of Ambient Electronic Music tuning its way around the world, we are taken on a journey paying homage to the forefathers and true pioneers of ambient inspiration, along the way catching up with radio correspondents telling us what music means to them.
In short, it's 'Mood Music', in fact 'Music to Think to', or even better 'Electronic Thinking Music'.
Available Releases: Turning Point

Download on iTunes:

About Snakestyle
snakestyle (Matt Embleton) traces his interest in making music back to about age 7, teaching himself to play percussion by ear, and being bought a vinyl re-press of 'oxygene' by jean michel jarre and a keyboard. 7 years later, he was making is first recordings using a 4-track tape recorder and whatever keyboards he could get hold of. 7 years after that, working with alan mcdermott under the name 'sandspider', their first studio album 'spider' was released on Worm Interface. Several years and two further album releases later snakestyle decided to work on solo material. In july 2007, he debuted as a dj at 'edensounds' at the 491 gallery in Leytonstone, london playing a selection of deep dubby minimal Techno.
In september 2007, snakestyle's first solo album 'snakestyle' was released on millennium records, put together using software synthesisers, the track 'sunrise dub' which featured his brother mike embleton on guitar was later released on a limited edition compilation entitled 'dreams'.
In february 2008, the new track 'neutral buoyancy' (also featuring mike embleton on guitar) was released on Interchill Records compilation 'future memories' alongside acts such as 'eat static' who had inspired him some fifteen years earlier.
In march 2008, music from the 'snakestyle' album was used in a film by Derek Levault about spearfishing in hawaii called 'o'ahu still get fish'
Snakestyle's first live set under the name 'Snakestyle' came on 25th / 26th April 2008 at 'Edensounds' at the Synergy Centre in Camberwell, London. The result can be seen on youtube: http://www.youtube.com/watch?v=3TjhFmj5Q4s
Artist Email: snakestyle@matthewleighembleton.co.uk
EMAIL : info@alextronicrecords.co.uk
Alex Tronic Records
11 Hillside Crescent
EDINBURGH
SCOTLAND
EH7 5EA
Snakestyle - Download on iTunes
Turning Point
OUT NOW!

Download Now
Out of Bounds
Download Now
Turning Point
OUT NOW!

Download Now
Out of Bounds
Download Now
ATR artists Alex Tronic and Snakestyle appear on the compilation album 'Shanti Lounge' - YSE223 Released 2010.
distributed through Edel Kontor and Millenium Records.